Hello readers! Okay, so I decided to take a break on topics that seem a little sad. Not saying being sad or blogging about feeling sad is bad, but I guess I wanted a little break to talk about good things! I was able to take a few days to reevaluate my situation, how I act, and have been able to really focus on me and better myself. Honestly, removing yourself from a bad situation, giving yourself time to breathe, and focus on you really does help a ton. I'm starting to feel better about myself again, so that's improvement.
Since it's a new month, a new start of the week, and the weather isn't awful, I decided to take advantage of my good mood and do some organizing around my place. I still have a lot to get done, but it's a start! I only took a few photos of the mass organizing I've done, and sadly, I didn't do before and after shots, just after. So with that all said, let me show you some highlights!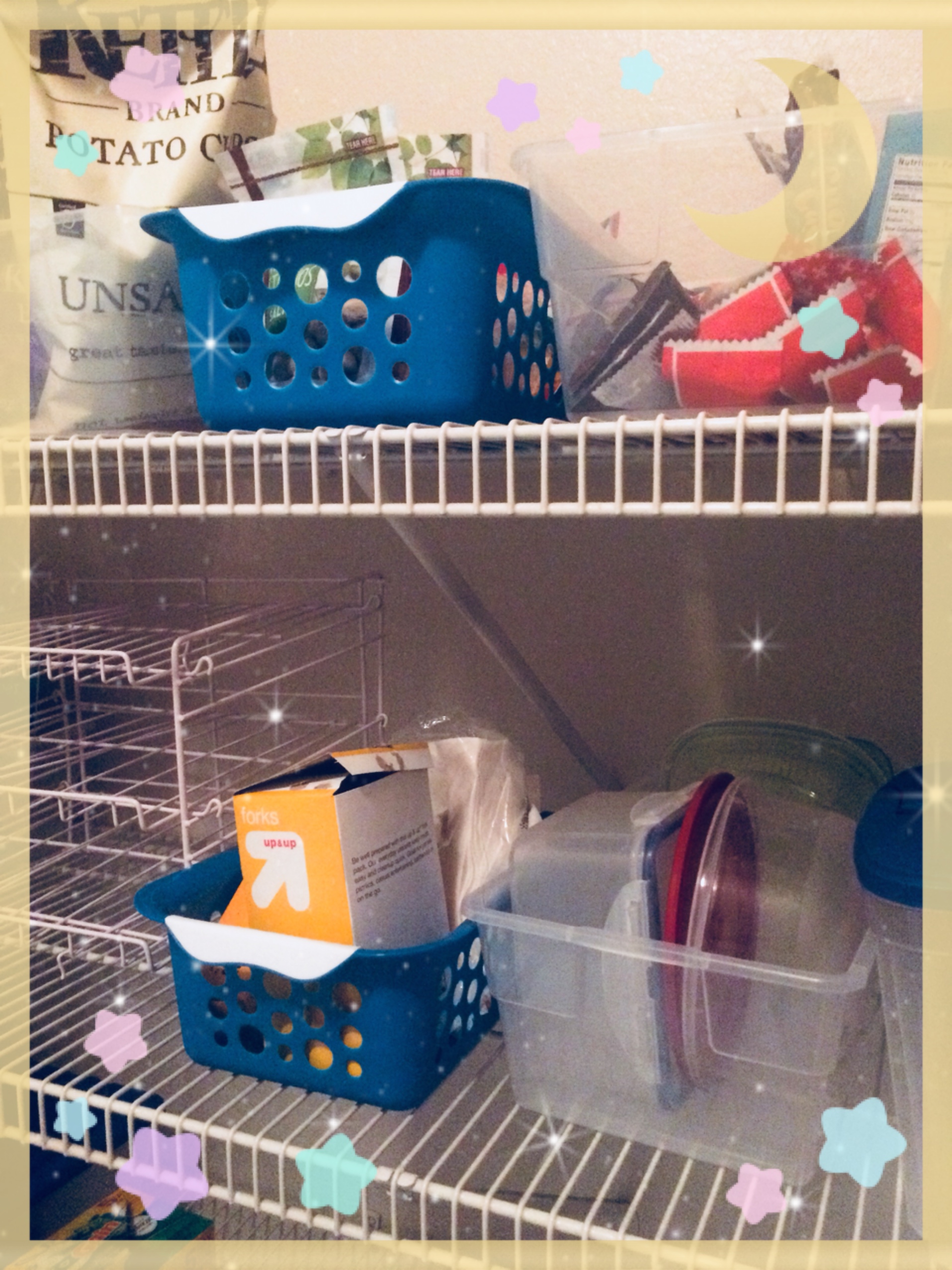 Today I spent a lot of time organizing the kitchen area. When we first moved in, we threw a lot of our kitchen items in random areas, so as you can imagine, it was very messy and unorganized. Now, where we live at the moment, we don't really have a pantry, but we have this huge laundry closet next to the kitchen where you can fit almost anything, so I decided to make one half of it the pantry section.
Here's a tip when organizing your home: buy a lot of small storage container bins. By using storage container bins, you can fit a lot more items in one, like snacks or your tech items. A lot of those bins can be pricey, but you can get some great ones at a dollar store or even online. If you don't mind the spending, I think you can get a pack of four or five for $6.
I decided to organize a cabinet for coffee and tea
So my parents and I are heavy coffee and tea drinkers (I rarely ever drink tea, but you get the idea). This cabinet you see used to be an area we just threw cups and plates in. The area below this cabinet is where I would make my morning coffee and it's the same place my parents make themselves tea. So after moving things around, I decided to empty that cabinet and organize it to have only our coffee and tea items.
Organization tip number two: when organizing your room, closet, bathroom, or anything, go for a theme! What I mean by that is have a certain part of your area that you're fixing up be a place specifically for something. Another example is in my bathroom, I have a huge cabinet with three shelves, and in those shelves, I've made one section be for something specific. The top shelf is all my towels, the middle shelf is medicines or items I don't use as much, and the bottom shelf is for my vitamins and shower essentials.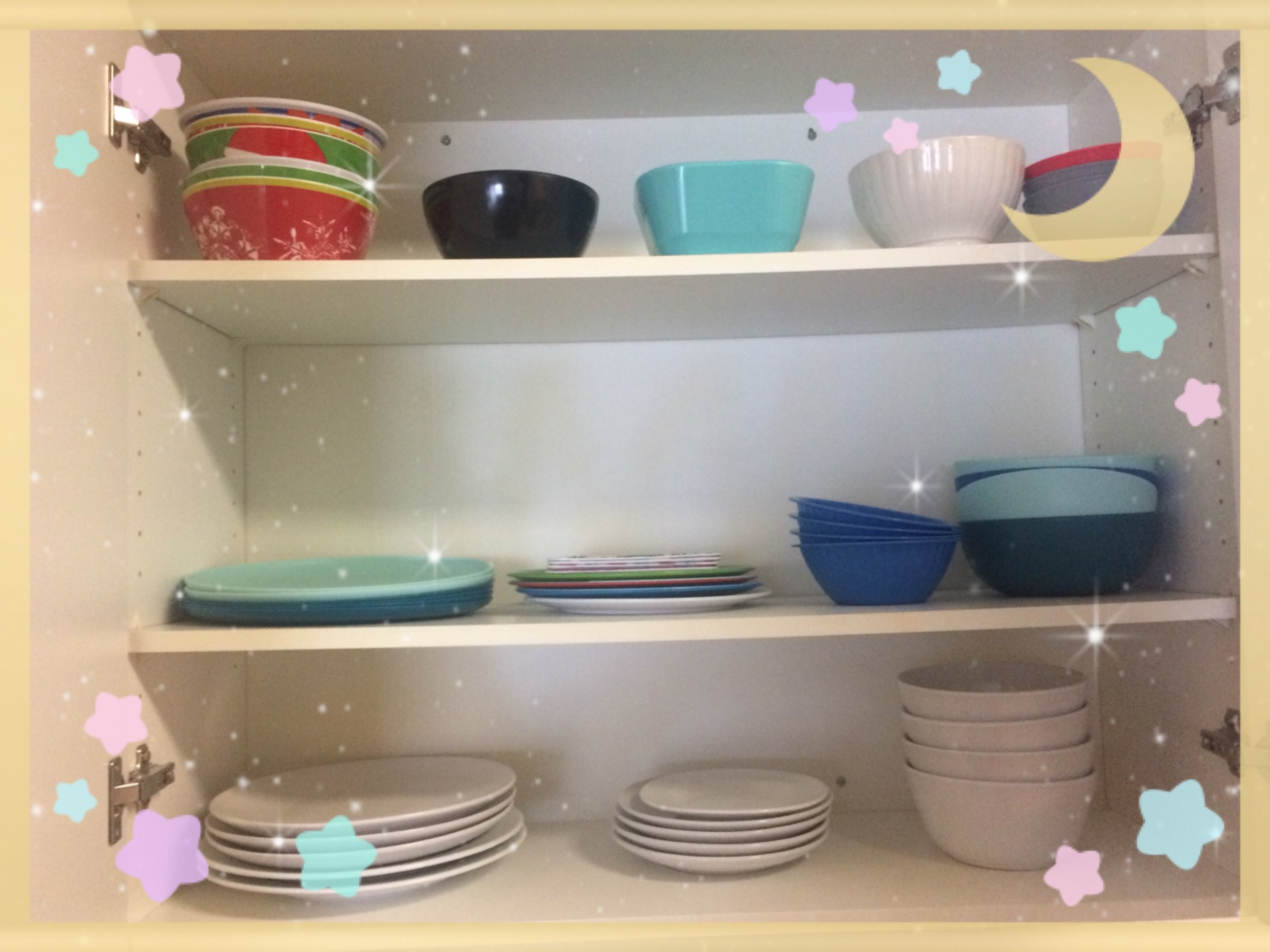 Made a plates and bowl cabinet!
So as I mentioned moments ago, when we first moved here, we threw a bunch of stuff in cabinets and it was just a mess. We originally had our plates in a small cabinet, and it didn't look that great to me. So I decided to empty a big cabinet we had, that was super cluttered, and move all the plates and bowls in there. After doing that, I think it looks much better and organized!
Organization tip number three: try to color or size coordinate! It makes your organizing look very nice and when you're looking for something, it becomes easy to find. With the bowls and plates cabinet, I put all the glass plates and bowls on the bottom, all the plastic bowls and plates, that we use a lot, in the middle, and the miscellaneous bowls we don't really use on top. Another area in your home you can use this tip is in your closet! I love color coordinating my clothes, since one of the factors I choose when it comes to picking what to wear is color.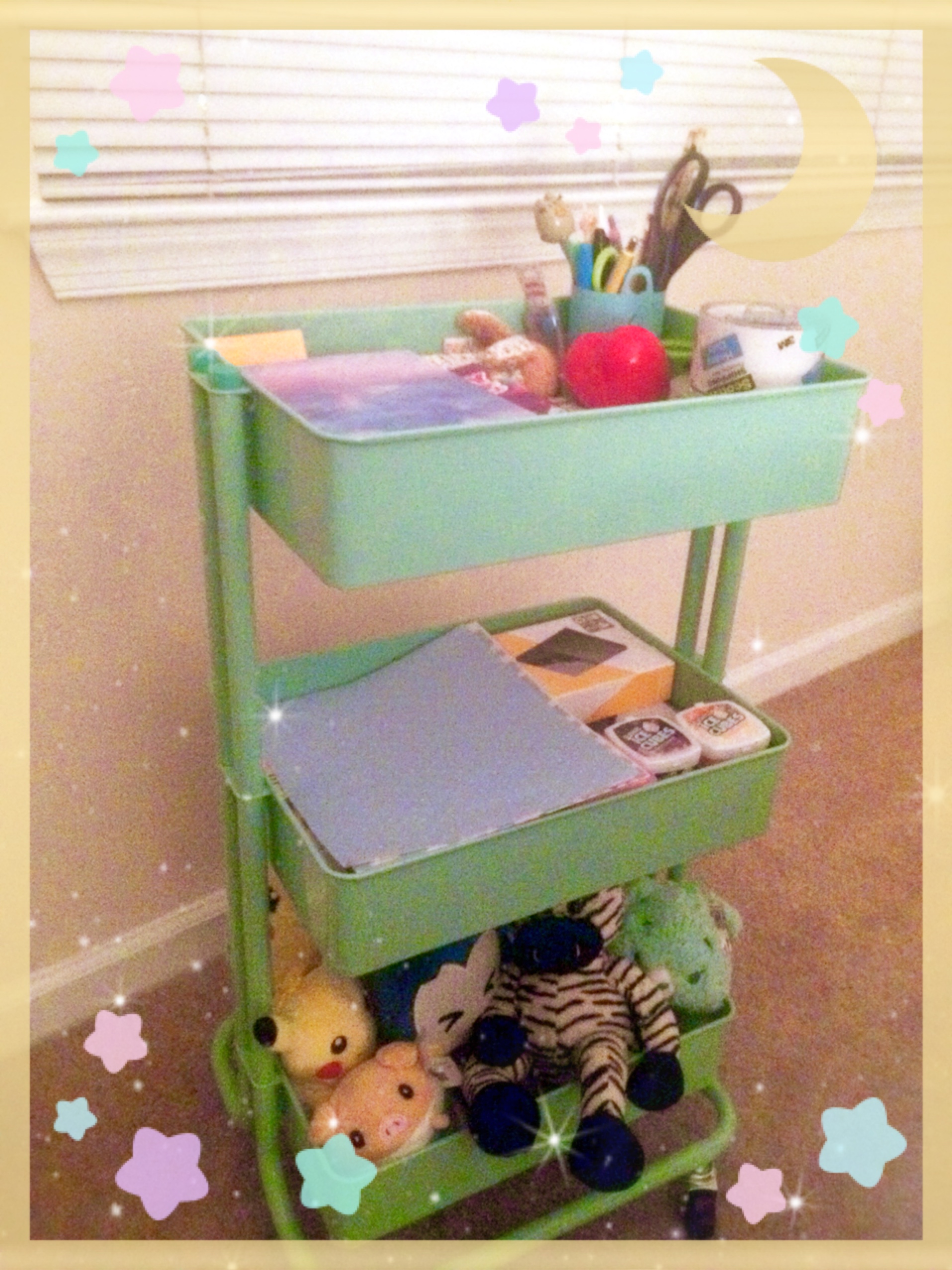 My super cute organization cart
So over the weekend, I went to Michael's and bought this rolling cart I've been wanting for months! Now I know it's hard to tell the color, but although it looks green on the bottom, it is in fact a mint color. I decide to use this cart as a place to hold my go-to craft items, stickers, my tech items, and even a place to show off my cute plushes. I will say that it needed to be built, so if you're not much of a building items person, get someone else to build it like I did. If you want the same one I got, you can buy it here! It also comes in other colors like black, white, light pink, hot pink, gray, and gold.
The final tip: buy a product that'll be useful for organizing, and it's a plus if it's cute! Technically, half of this tip is more of an opinion, but when looking into organization products, it's best to get something that can hold more items in one, and it helps if it's super adorable looking.
In the comments below, what tips or advice do you have when it comes to organizing? As always, thank you so much for reading, comment, like, share, and subscribe!
*Photo by Jason Leung on Unsplash